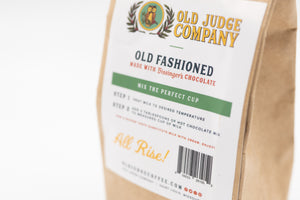 We are proud to partner with another historic St. Louis brand, Bissinger's Handcrafted Chocolate. Old Judge Hot Chocolate is made from premium Bissinger's Dark Chocolate and delivers a rich, creamy experience for any hot chocolate lover!

Net Wt. 12 oz. 
*Contains Milk and Soy 
About Bissinger's - www.bissingers.com
At Bissinger's, we take our profound love of chocolate very seriously. Our rich history of confection craftsmanship has endured for over 350 years, and the Bissinger family's singular passion and privilege to hand craft the finest chocolate in the world still remains. Once confectioner to the King of France and European nobility, the Bissinger's name has been one of the longest standing names in the confectionery industry. To this day, we remain a family owned business with a true appreciation and love for chocolate.